Best in Covid App
iOS app design, UX, UI
2021
Best in Covid
is an iOS app, which compares the Covid-19 situation around the world. The user selects the region and can switch between 8 metrics such as the number of cases or the number of people who are fully vaccinated. Countries with the highest numbers appear at the top.
The app was developed by Adam Nohejl and uses data from
Our World in Data
. A first prototype existed when I joined the project. I helped define user personas and use cases. The biggest challenge was to find a UI that would allow users to explore the large amount of data intuitively and without feeling overwhelmed.
I made wireframes, sketches and prototypes in Figma and used Figma Mirror to test the sizes, colors and interactions directly on my phone.
Best in Covid is now available
on the App Store
!
App Icon
The more detailed app icon for the App Store and the simpler one for the phone desktop
User Personas
We came up with a number of personas, but ultimately narrowed them down to two. We wanted the app to be useful internationally and be straightforward. We decided to move away from power users and towards a broader public.
Wireframes
Wireframes helped define the interactions as well as what data to display. We decided to display 8 data categories or metrics.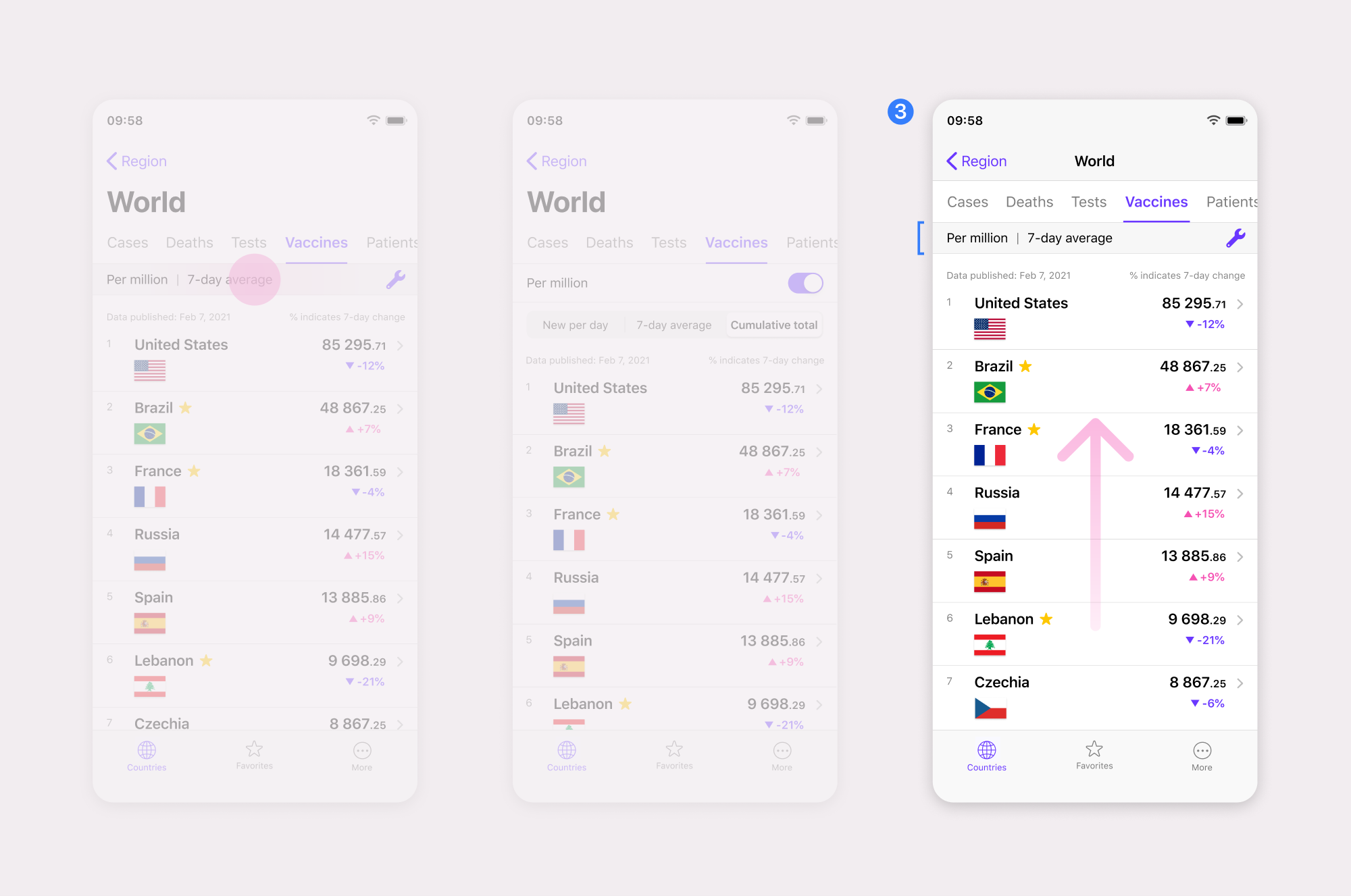 User Interface
The final UI of the Countries tab shows countries of the selected region in order from highest to lowest, values of the selected metric and a
7
or
14 day trend
. Users can display data for familiar categories like
Cases
,
Tests
or
Vaccines
with one tap.
By default, filters are collapsed
(1)
. If they wish, users can tap anywhere in the wrench icon area to open more preferences
(2)
. Here they can change what period data is displayed for –
New per day
,
7-day average
, or the
Cumulative total
since the beginning of the pandemic. They can toggle the
Per million inhabitants
option. These extra controls collapse on scroll
(3)
, but the active settings continue to be displayed. All relevant information is kept on screen while the number of controls is reduced.

Country Detail
Tapping on a country from the list displays the Country detail screen. All available statistics are shown in thematic groups and display the value, what date the value is from, how this has changed in 7 or 14 days (this can be set in the More tab) and the World rank for the given category. Vaccination progress is represented with a bar graph. The Period selector and Per million toggle are available and do not collapse because they are the only controls on this screen.