Role
branding, UX/UI, SoMe, web, video, photo

Client
Mycorena AB

Year
2022–2023



Mycorena is a Swedish B2B FoodTech company, which mainly develops mycelium-based protein as a food ingredient.

I developed the brand identity of Mycorena and its sub-brand Promyc, defined how they work together or co-branded with other companies. I facilitated a workshop with key stake holders, developed moodboards, styles and templates for social media posts.

---
A B2B food-tech company building up partnerships and scaling up while it educates future consumers
Mycorena is a high-tech innovator working with biotechnology. At the same time, its product is ultimately an ingredient in delicious food.

solution
---
A bold, persistent innovator systematically working with black and high contrast

As was established through a workshop I organized with key stakeholders, Mycorena's identity was that of a bold and persistent innovator. The visual style centered around black, with some white and an accent lime.

I created a moodboard and templates for social media posts with several levels of boldness to unify and speed up asset creation. I experimented with AI-generated images for situations where images were unavailable or could not be published. I created a set of custom icons.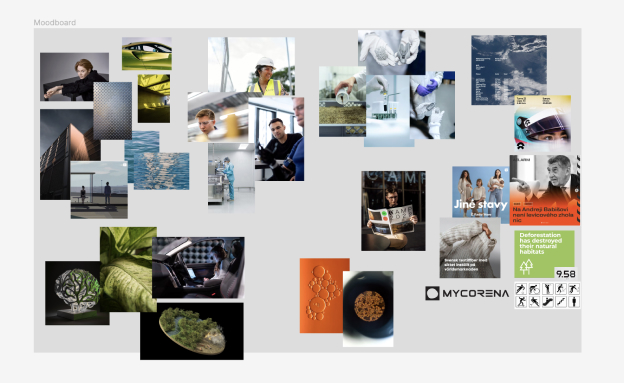 Moodboard


business-facing
---
Mycorena, a bold innovator and change-enabler
At professional fairs, the focus was on innovation in alternative protein production.
public-facing
---
Positive, dynamic, delicious

At food festivals and similar events the vibe was lighter, more focused on joy and indulgence.