NTK's 10th Anniversary
print, promotional items, exhibition design
In 2019, the National Library of Technology (abbreviated to NTK) celebrated the 10
th
anniversary of its creation and the opening of the new building. I prepared various promotional work for the occasion – invitations, a commemorative coin, a set of message boards or an outdoor exhibition to name a few. I collaborated with
Radka Tomašíková
on some of the tasks.
The library's director also asked me to place a plaque commemorating people who were responsible for the library's creation somewhere inside the building. I found it communicated best with visitors on the base of a staircase where it is both very visible (2 meters in height) and low-key. The text is painted directly onto the concrete as a permanent hommage and message to future visitors.
Printed Invitation
I wanted to create a mutli-layered object. The card uses a visible 12 column grid, which is simultaneously a minimalist calendar marking the date of the event with a red line.
NTK's 10
th
Anniversary Celebration
photos: Lubomír Kotek
Commemorative Text
A commemorative "plaque" was painted directly onto the concrete. I typeset its text and proposed the bottom of the main staircase as an optimal location, where it can be generous in size without demanding too much attention. I like the idea of people suddenly noticing it, maybe after years of visiting the library. In accord with the library's visual style, it contains technical details, such as an indication of line breaks, the number of characters used or the dimensions of the sign.
Custom-made Coin
A coin was to be given to library employees as well as VIP guests of the 10
th
anniversary party. It indicates the time period in an architecture drawing style, the symbol used to mark the center of the building (also the center of the coin), and its GPS coordinates. A souvenir of the time and place, and for me a challenge to work with a new material – nickel – and a very limited amount of space.
Message Boards
A series of three whiteboard panels gave visitors an opportunity to rate the library's services with a scale of 4 stickers ranging from "definitely yes" to "definitely not". The third panel was open to opinions, wishes or criticism. We received a massive number of comments and reactions.
photos: Michaela Pánková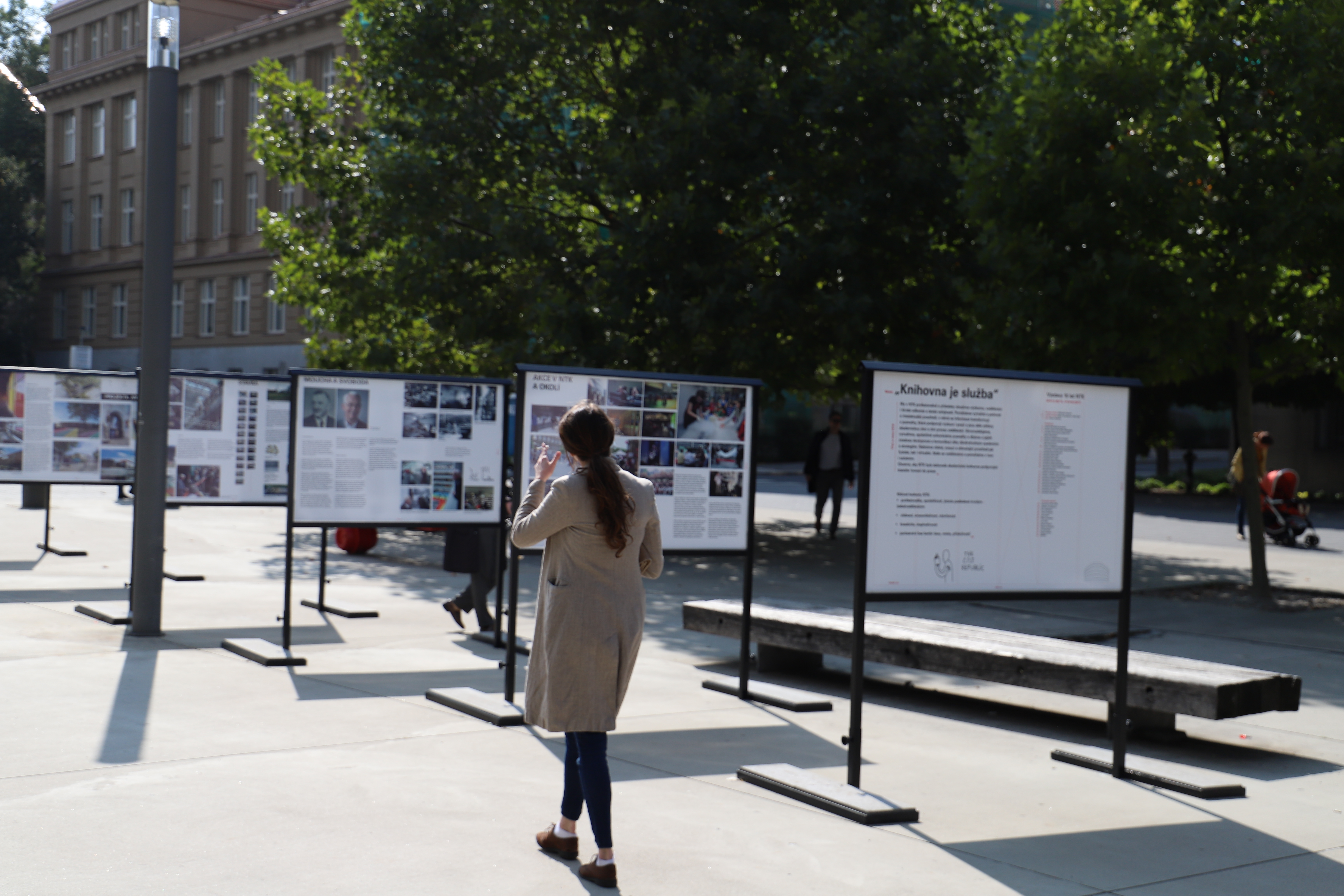 Outdoor Exhibition
My colleagues put together texts and photos of the library's history which Radka and I turned into a series of exhibition panels. Our aim was to tell the story of its location, present the institution that preceded the National Library of Technology and show some of the cultural events, which have taken place there.
photos: Lubomír Kotek, Filip Čížek