Role
visual identity, website design and implementation

Client
ConScience

Year
2022



ConScience is a Gothenburg-based nano-fabrication company. I was asked for a complete redesign of their website in collaboration with a dedicated copywriter and photographer. This was the ideal situation where I had high-quality content and could focus on communicating their expertise and know-how.

---
How can we represent a company, which provides cutting-edge nanotechnology to both academia and business?
ConScience needed an updated visual style that evoked calm precision, expertise and would position them as elite players within their domain who work with the world's top institutions.

solution
---
Cleanroom laboratory yellow with metallic greys and an unapologeticly geometric typeface
Inspired by the yellow light typical for state-of-the-art nanofabrication laboratories called cleanrooms and the old-worldly blue-green hue of university chalkboards, I created a unique color palette distinct from competitors' color schemes. A strong geometric typeface, round and crisp, complements the style.

The website maintains a confident and elite mood of world-class scientific know-how. Round elements reminescent of semiconductor wafers used in production are contrasted with sharp clean edges and cold greys are brightened up by a subtle yellow gradient and buttons.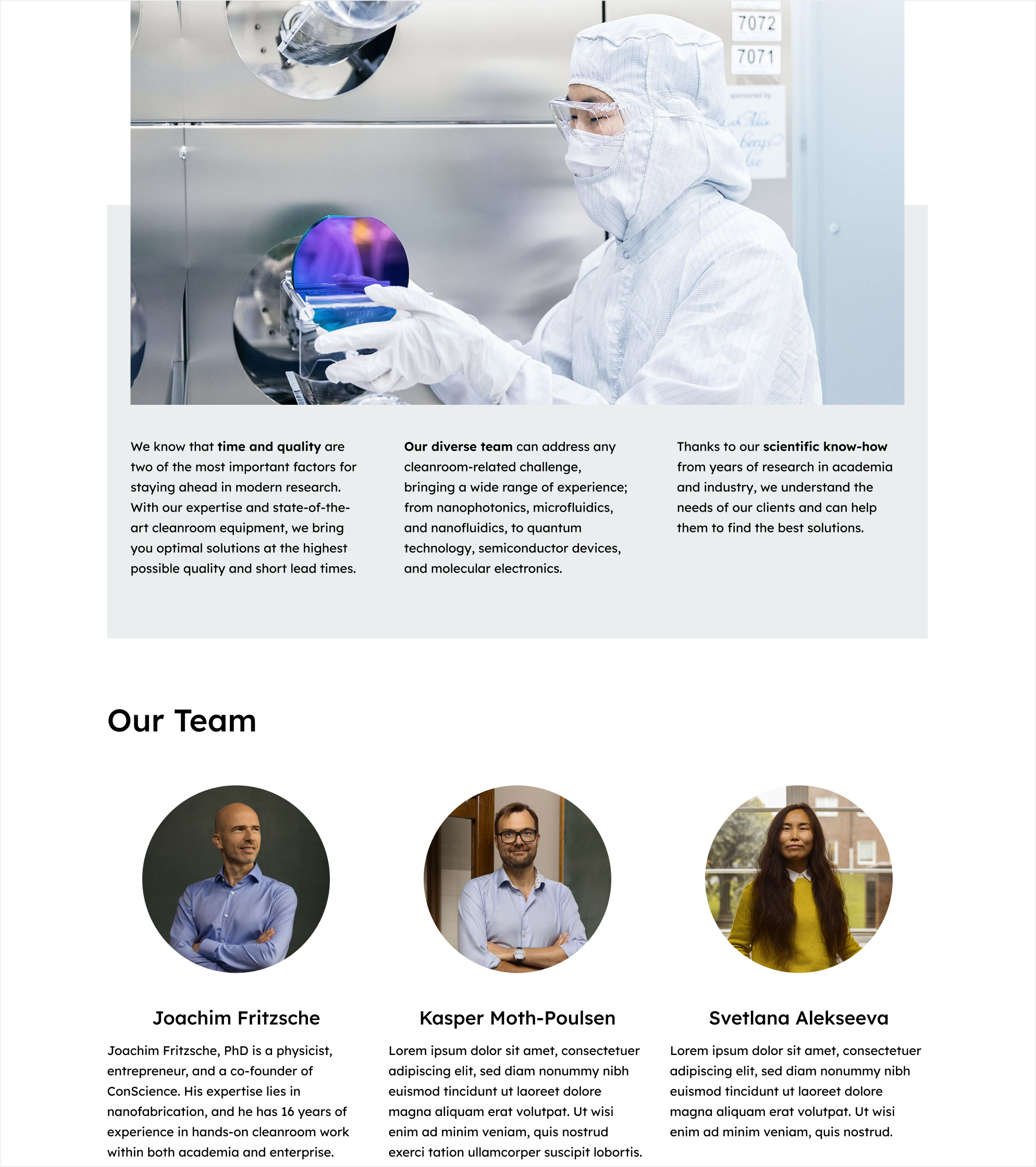 site structure
---
Emphasis on top-notch facilities, team and renowned clients like Harvard or Max-Planck Institut
The wireframe, consulted with the copywriter, helped establish the site's structure, flow and optimize copy. All essential information is accessible from the home page, team and previous projects are detailed on dedicated pages. The value proposition is highlighted, but there are no aggressive CTA's.
Home page
---