I'm Studying Abroad Photographic Competition
exhibition design, print, photography
2018

"I'm Studying Abroad" was a competition where university students could show off their best photographs taken during exchange programs abroad. I prepared a 12 panel outdoor exhibition in the Dejvice university campus with a selection of the best photos and accompanying texts as well as diplomas for the winners.

The competition was promoted through a series of flyers and Facebook posts. All texts were bilingual in Czech and English because foreign students studying in the Czech Republic were invited to participate.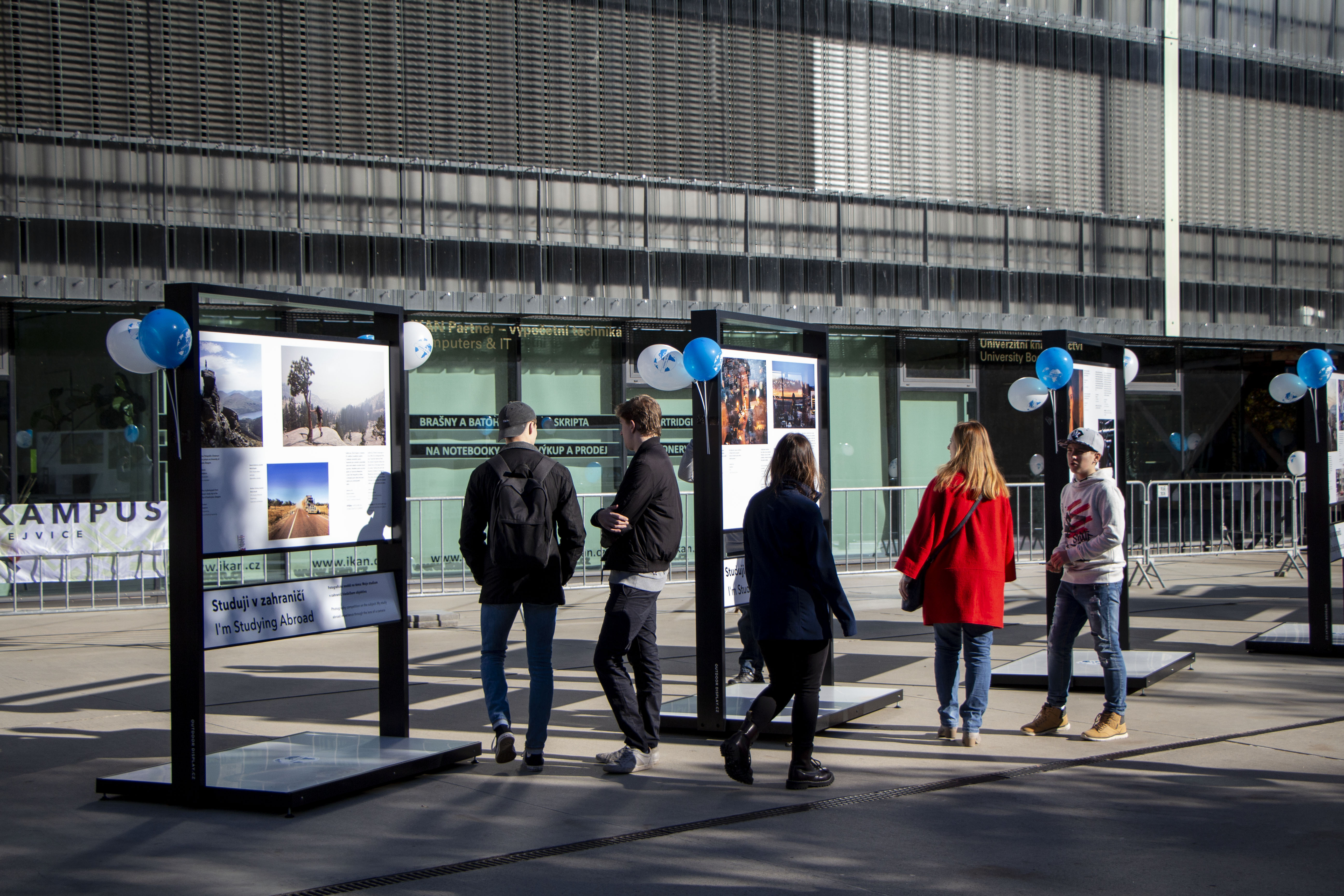 Outdoor Exhibition
I chose to place the panels in a diagonal alignment to make the viewing experience more fluid. People could pass on both sides, see more panels at once and it avoided creating a solid wall, which would block traffic. The photographs caught the attention of many passersby.
Exhibition Panels
There were 12 panels, 1 x 1.5 m in size, placed in 6 stands. These are some of my favorites, they include the winning photographs.
Panel Close Up
Diplomas and Prizes
The diploma design indicates common photographic sizes. I printed them on 300 g Munken Lynx paper to make sure they would be a nice object and souvenir for the winners. Sweden was well represented – Oliwer Fontaeus, a Swedish student, won the category "The Czech Republic Through the Eyes of Foreing Students" (framed picture above) and a photo of T-Centralen placed third in another category.
Promotion
I made two versions of printed flyers, one primarily for Czechs and one aiming at foreigners, and an image for social media. Several dozen entries were sent.
After the Award Ceremony
competition photos:
Jaroslav Fikr
Aneta Požárová
Martin Kapoun
Lenka Watersová
Thu Huong Phamová
Tomáš Roček
Oliwer Fontaeus
Olga Druz
Anna Alekseeva
all other photos:
Filip Čížek